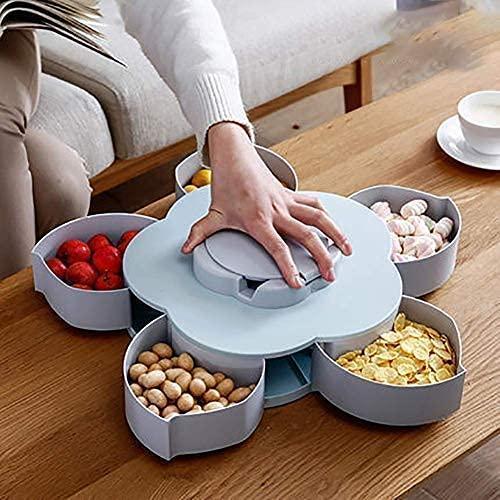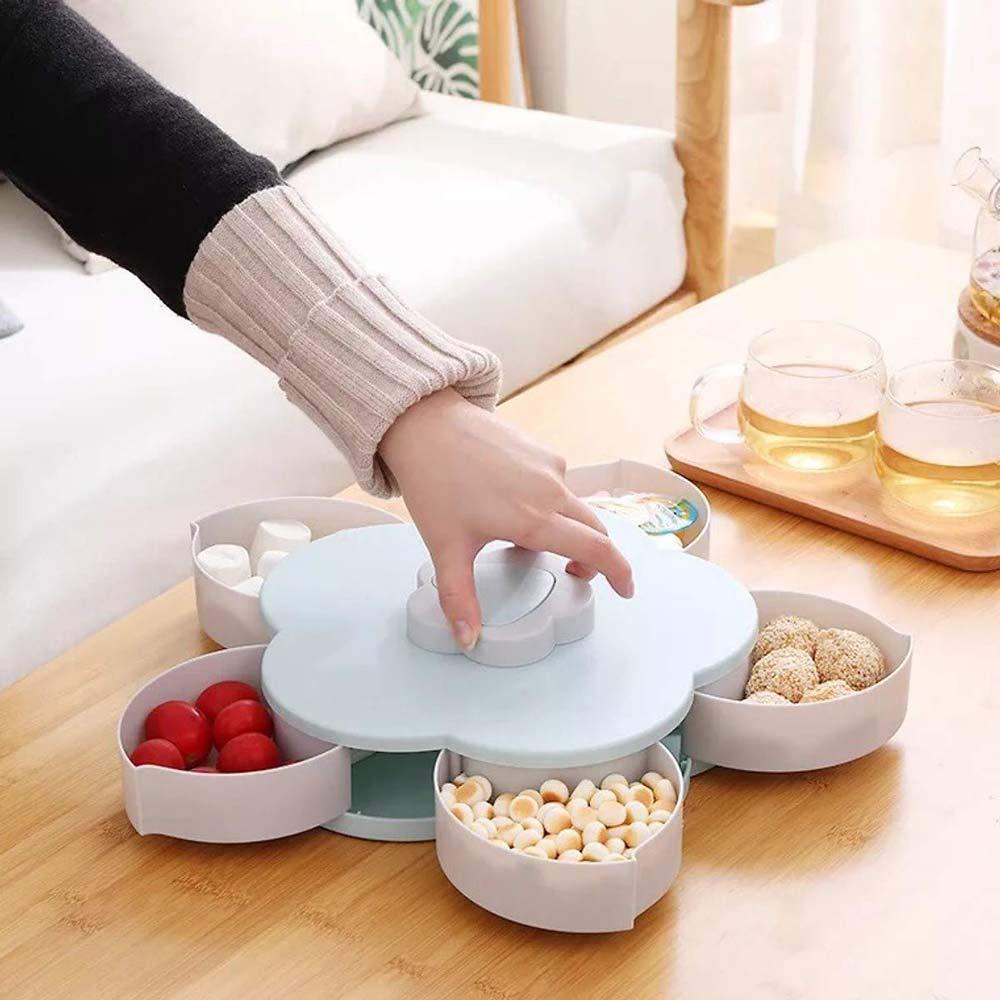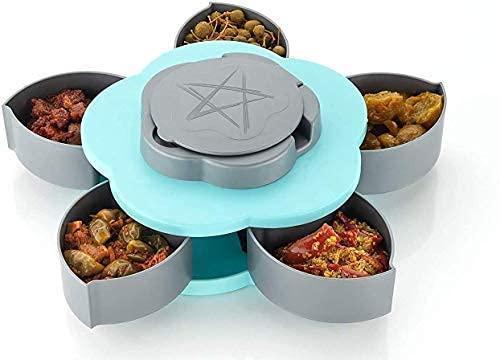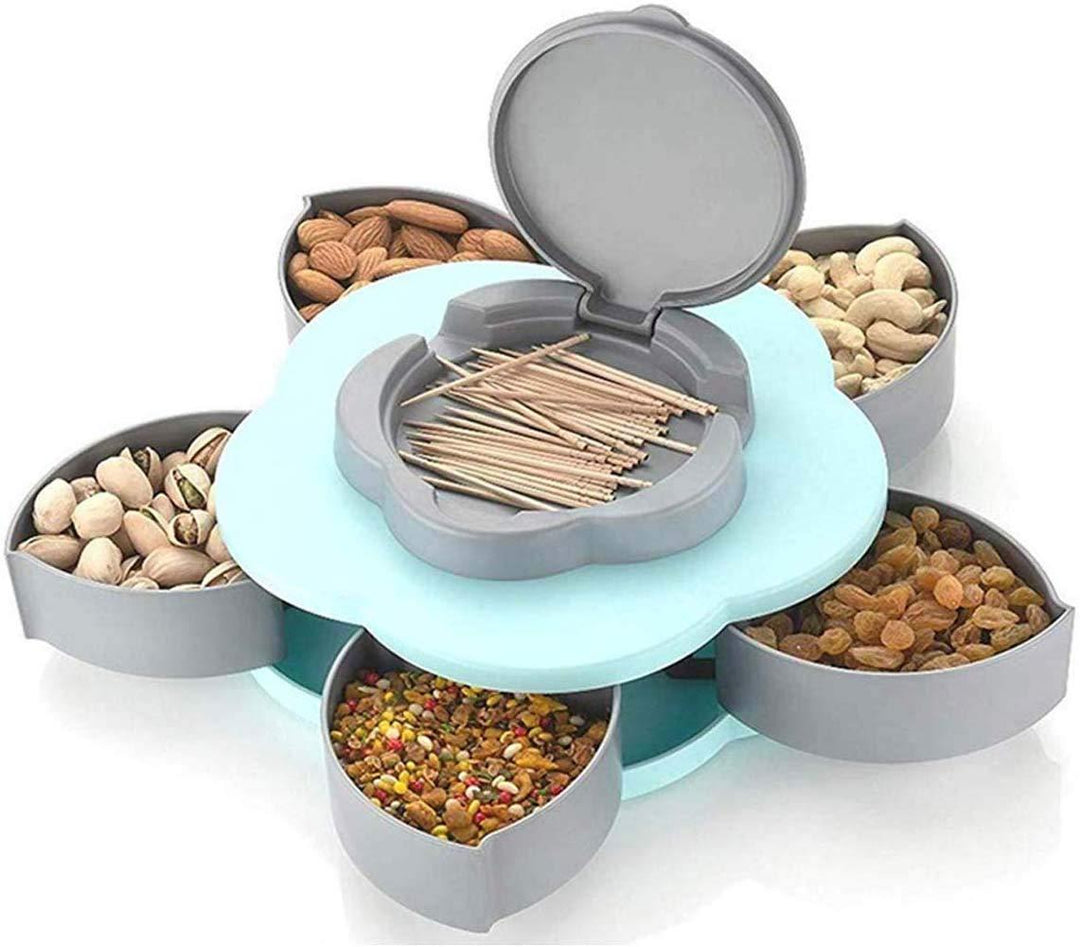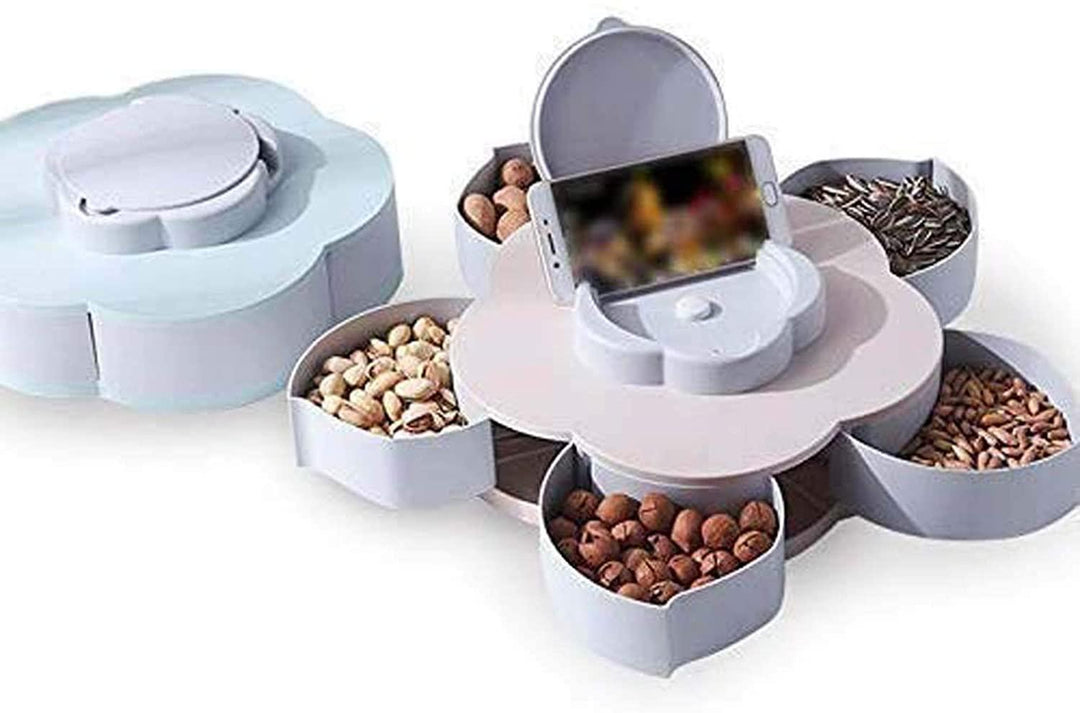 5 Compartments Serving Rotating Tray
Regular price
Rs. 1,399.00
Sale price
Rs. 698.00
Save 50%
/
---
FREE Shipping & Delivery in 5- 7 Days
RAZORPAY - Secure Online Payments
EXTRA 10% OFF ON PREPAID ORDERS

🔁🍬 A TWIST OF DELIGHT AWAITS IN EVERY COMPARTMENT OF OUR ROTATING CANDY BOX! 🍭🌀
FEATURES:
Unique Mechanism:
 This dry fruit box has unique mechanism that when you rotate the upper flower part then the whole dry fruit box including all compartments will gets open and close.
Dry fruit box comes with 5 racks which holds 5 different types of dry fruits, pickles, cookies, chocolates, grams, spices etc. It has strong and steady body which is unbreakable. It is dishwasher safe, rust free, BPA free and easy to clean.
Package Content:
1-Piece dry fruit box with 5 compartments. Made by high quality food grade plastic material which is safe to store food items in it.
Unique appearance:
 snack plate with creative petal design. Carefully rotate the flower-shaped rotary switch (rotates 360 degrees) at the top of the fruit tray. The storage space is like five flowering petals. The appearance is very unique and beautiful. High capacity: each tier of the candy box has five snack bowls in which various foods, fruits, nuts, snacks etc. can be stored. It is very suitable for parties, weddings, birthdays, camping etc. Multifunctional: We have designed a shelf on the top of the rotating candy box.
The snack storage box can not only store nuts, sweets, dried fruits and other snacks, but also mobile phones.Non-slip padding: the bottom of the fruit box is equipped with a non-slip silicone pad, which effectively prevents slipping and wear. It can be fixed firmly on the table and ensures stability.Material: The snack storage compartment is made of high-quality materials, is not easy to deform, safe, healthy and durable.

DESSERT BOX FLOWER CANDY FRUIT SERVER 
A dessert box home storage is a must for households. A clean house is a happy house. This dessert box helps keep things in order and looking neat. Living in a fully functional home can be a challenge. There are so many little kinds of stuff that you need to keep organized. On top of that, if you have kids, you would definitely need to keep snack foods around. One of the major challenges for homes is the organization of things. So many little things, so little space.
CHIC DESIGN
The dessert box may not look much at first glance. But when you twist and open it, you will be surprised. There are plenty of compartments wherein you can put assorted things. The smallest size alone has 5 separate compartments. The home organizer comes in two different colors: nordic pink and nordic blue. Its design is shaped like a flower. So pretty and so cute.
MULTIPURPOSE CONTAINER
It is perfect storage for finger foods like nuts, candies, fruits, and chips. If there's a small gathering between family and friends, you can just bring it loaded with food. When it is already eating time, you can just twist and open. It is true that this home organizer is ideal to be used for storing food, it is not limited to just that. You can store your sewing kits like the needles, the thread, buttons and the like.  Furthermore, you can also store your fancy pieces of jewelry like rings, necklaces, bracelets, and earrings.